Overview
Verifying your client's data just became easier with the Audit Sight and Sage Intacct integration! Simply send the connector link to your Client Contact that has admin access to the account and the connection can be enabled.
Refer to Knowledge Base Article: Client account set-up to learn how to set up your Client Contact.
Follow the steps below to connect the Client's account to Audit Sight.
Step 1: Navigate to the Client screen
Send an email inviting your Client Contact to connect. You can resend the email if your Client Contact did not receive it the first time. Alternatively, if you have the login credentials to the account, you may login directly via "Add Direct Connection".

Step 2: Audit Sight emails the Client Contact
The Client Contact will receive an email similar to below inviting them to connect their account: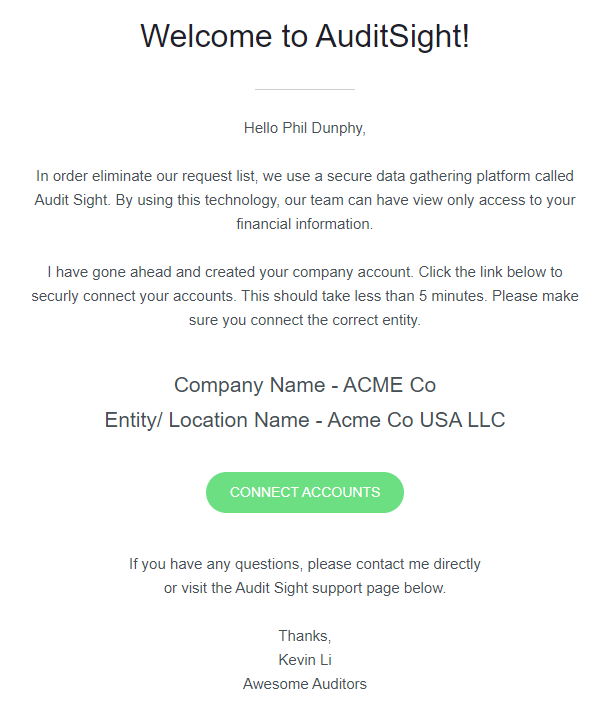 Step 3: Client Contact selects their accounting software
In this article, we will show the steps for Sage Intacct integration

Step 4: Obtain your Company ID
Once Sage Intacct is selected from our connector page, you need to sign in to your account.
Please ensure the Sage Intacct account has full administrator privileges to continue.
You will need to obtain your Company ID for Audit Sight to identify which account to connect to.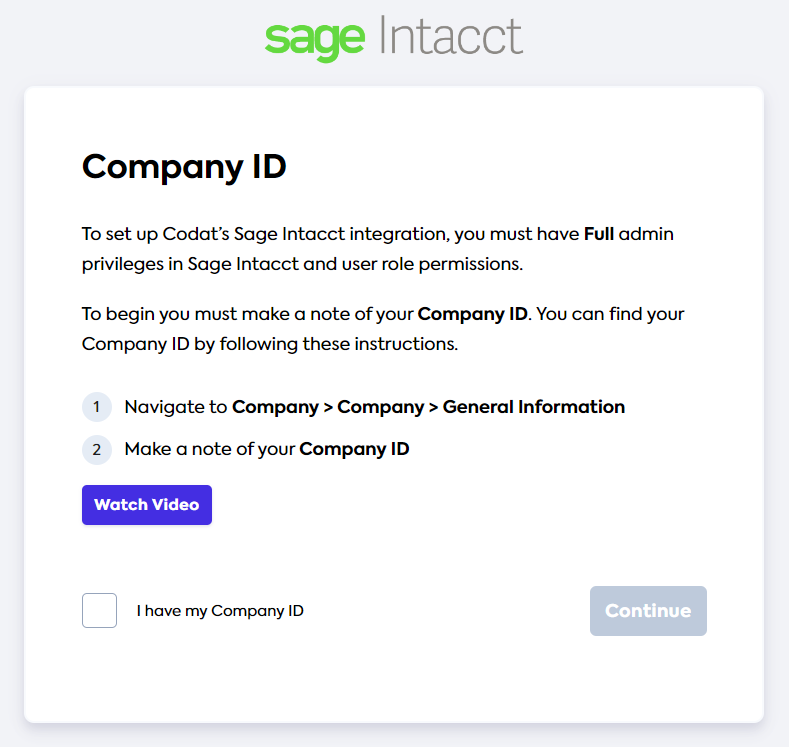 Step 5: Enable Web Services
Follow the directions in the screenshot to enable Web Services.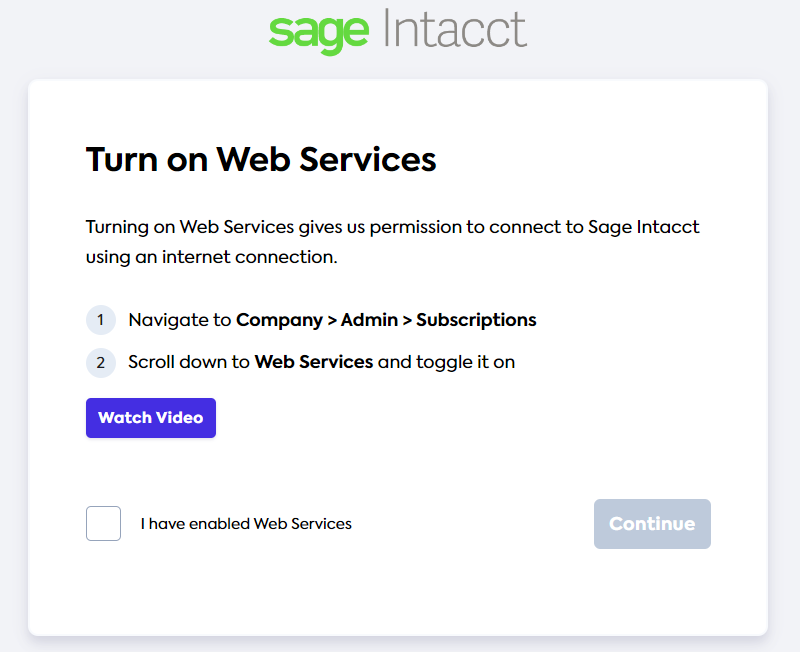 Step 6: Configure Web Services
Follow the directions in the screenshot to configure Web Services appropriately to give Audit Sight permission to access Sage Intacct via the internet.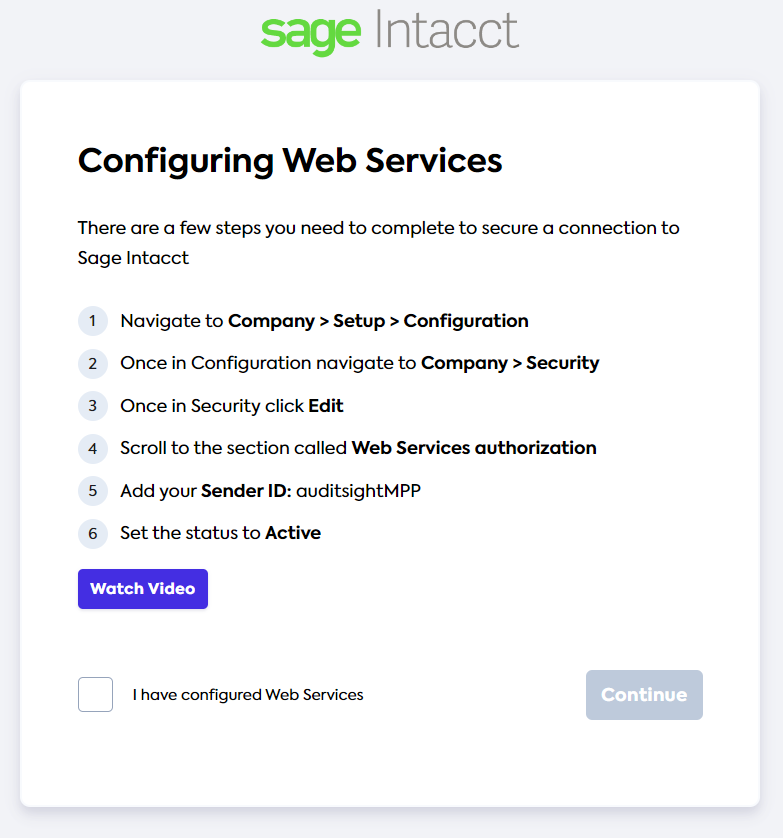 Step 7: Create a Web Services user
Follow the directions in the screenshot to create a Web Services user that has the permission to connect Sage Intacct to Audit Sight.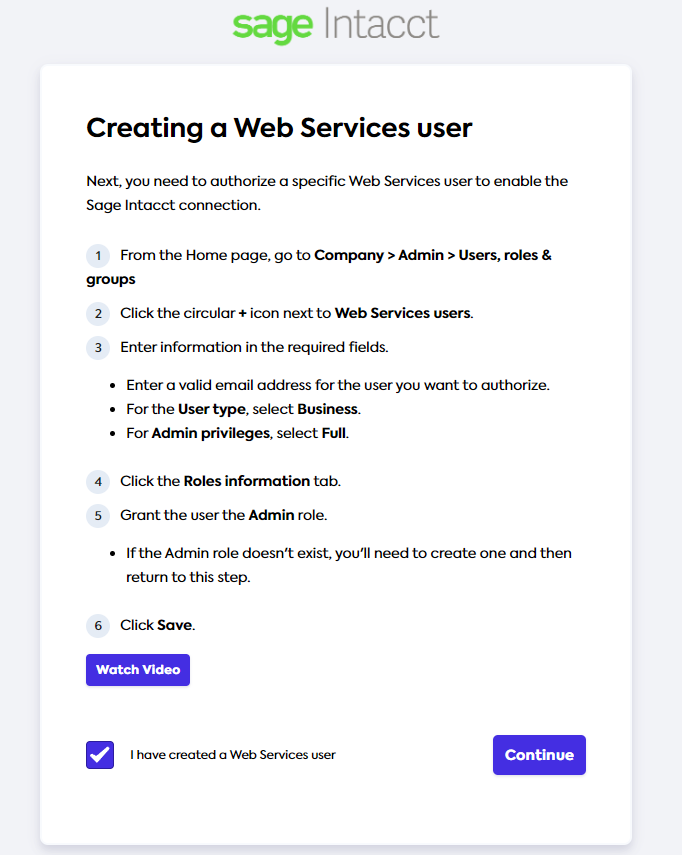 Step 8: Login
Once the previous steps have been completed, login to Sage Intacct to complete the connection.
Upon success, the Client will be redirected to the Audit Sight Connector to complete the next step of integrating the bank accounts.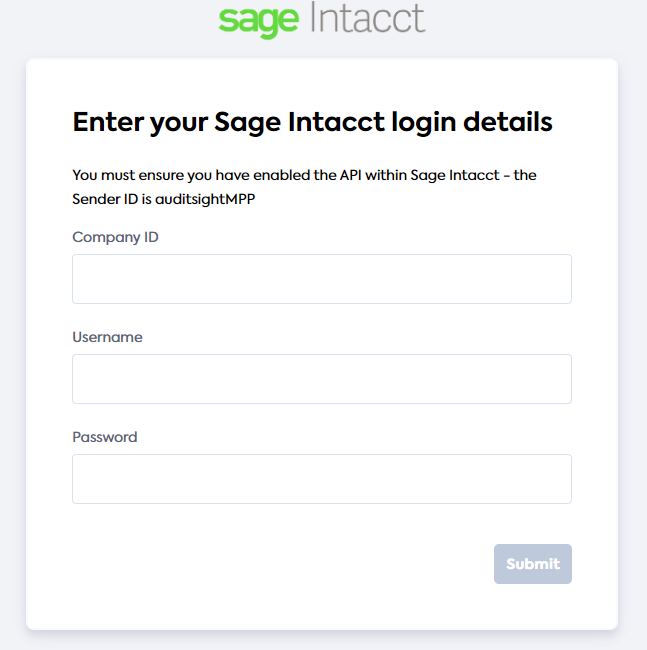 Sage Intacct FAQs
Does this integration cost my client?
When subscribing to Web Services within the Company Subscription page, the subscription is free.
When toggling on the subscription, a pop up message may appear saying that you can be charged additional fees; this message appears for any subscriptions that you would be subscribing to within the application.